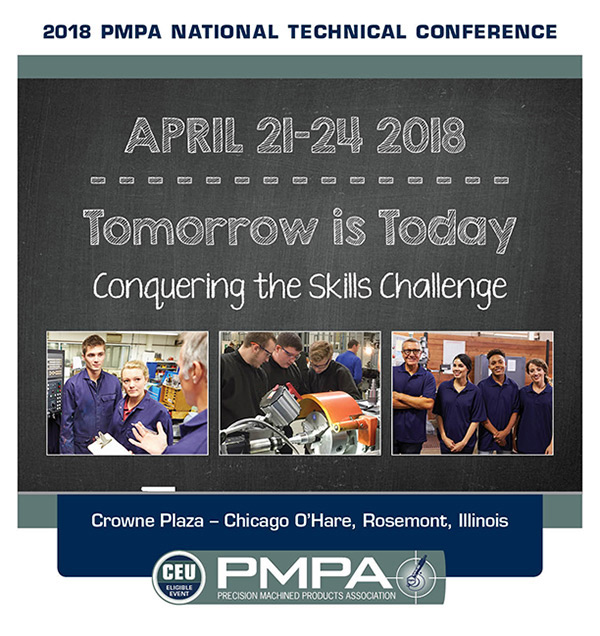 2018 National Technical Conference
Saturday, April 21 - Tuesday, April 24, 2018
Crowne Plaza – Chicago O'Hare
5440 North River Road [map]
Rosemont, IL 60018

The Technical Program Committee continues to improve this premier training and networking event for the precision machining industry. The content of this conference is targeted to the cross-section of talent and machining capabilities used by precision machining shops today. Track programming is targeted to three groups of personnel: Technical, Quality, and Management. Each 'block' of programming will have sessions designed for each track.
Related Web Pages and Sites:
Conference Website
Registration Includes:
Two and half days of sessions; Technical Member Exhibits; two evening receptions; two group lunches, and two breakfasts.
Special Events

Name
Price
SESSION BLOCK #5 - CNC Multi-Spindle - Print Provided
$0.00
Cancellation and Other Policies:
Registration fees will be refunded in full if cancellations are received by 5:00 p.m., Monday, April 16. Fees for cancellations after April 16 cannot be refunded, but substitutions are encouraged.
Continuing Education Information:
Attendees of the 2018 PMPA National Technical Conference are eligible for 1.1 units.
General Hotel Information:
Crowne Plaza – Chicago O'Hare
5440 North River Road
Rosemont, Illinois 60018
Room rates for the Conference are $145 single and double occupancy, plus tax.
For more information please contact:
Mr. Monte C. Guitar
Director of Technical Programs