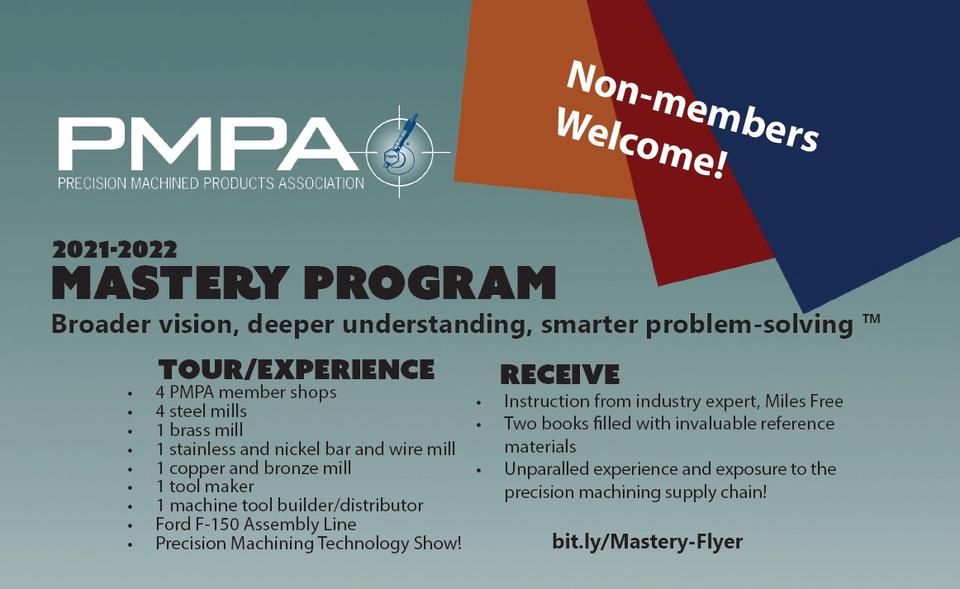 Mastery Program
Tuesday, August 10, 2021 (7:48am) - Wednesday, May 4, 2022 (6pm US/Eastern)
Bus Tour

2021-2022 Mastery Program
Registration Includes:
- All three tours: Milwaukee/Chicago area, Detroit/Toledo area and Cleveland area.
- Tours on all scheduled stops
- Hotel room for overnights on March 30, 2022 and May 3, 2022
- Meals and snacks
- Two books exclusive to the Mastery Program: The Cribsheet Collection and a notebook
- Personalized hard hat
- Safety glasses or safety shields for eyeglasses
- Mastery Program backpack/messenger bag
- Instruction from Miles Free, PMPA Director of Industry Affairs
Who Should Attend:
Engineers, machinists, purchasing agents, operations, owners. Who are the two people in your company, that when the machines are down, they are the ones working to solve the issue and get what's needed to get everything up and running?
As an employer you should select someone from purchasing and someone from engineering/operations so that you create a team of informed problem-solvers when an issue arises, and as a result, get thoughtful problem-solving, instead of just blaming the suppliers.
Meeting Attire:
Casual, comfortable shoes.
Registration Fees:

These fees are available through 08/08/2022

Name

Price

Available To

Mastery Program Registration Fee for One Attendee
$2,000.00
Manufacturing Members
Mastery Program Registration Fee Each for Two + Attendees
$1,500.00
Manufacturing Members
Cancellation and Other Policies:
Registration fees will be refunded in full if cancellations are received by 5:00pm July 30, 2021. Fees for cancellations cannot be refunded after July 30, 2021, but substitutions are allowed.
General Hotel Information:
Overnight rooms (3/30 and 5/3) are included in the registration fee.
Room blocks with event rates are available for:
- Same Cleveland hotels for NTC/PMTS 2021
- Sheraton Detroit Metro Airport for March 29th & April 1st, 2022
- The Pfister Hotel May 2nd and 4th, 2021
Travel Information:
Cleveland Tour
Bus to pick up at Hilton Downtown Cleveland at 1:00 pm on August 10, 2021 and drop off about 5:30 pm on August 11, 2021. Tour of PMTS show the afternoon of August 11, 2021.
Detroit/Toledo Tour
Bus will pick up at Sheraton Detroit Metro Airport at 8:00am on March 30, 2022 and drop off at Sheraton Detroit Metro Airport around 8:00 pm on March 31, 2022.
Milwaukee/Chicago Tour
Bus pick up at The Pfister Hotel at noon on May 3, 2022 and drop off at The Pfister Hotel around 7:00 pm on May 4, 2022.
For more information please contact:
Mrs. Carli Kistler-Miller
Director of Programs & Marketing
Precision Machined Products Association
Phone: (440) 526-0300
Fax: (440) 526-5803
Email:
cmiller@pmpa.org