You can only gain access to certain items and special pricing if you have logged in. Login Now.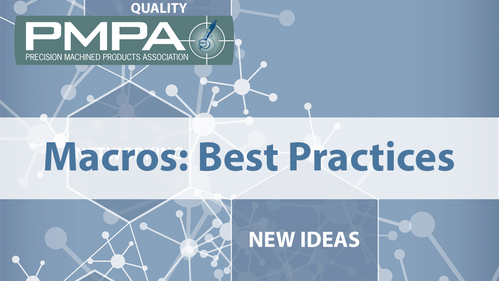 Macros: Best Practices (PMPA NTC 2022)
Format:
Streaming Video
National Technical Conference 2022 Attendees - $0.00
PMPA Members who did not attend - $100.00

Description:
Recorded: May 3, 2022 at National Technical Conference in Milwaukee, WI Speakers: Derek Briggs, Tsugami Corp Ray Navarro, Maubeni Citizen-Cincom Description: Everyone knows that lean in important in our shop processes, and eliminating waste iskey to profitability. But Lean should be applied to our CNC programs as well. Learn best practices on deploying macros. Reduce errors, reduce variability. Reduce costs.
Product Details:
| | |
| --- | --- |
| Product ID: | 5302029 |
| Publication Year: | 2022 |
| Pages, Size, or Length: | 1hr 11min |