You can only gain access to certain items and special pricing if you have logged in. Login Now.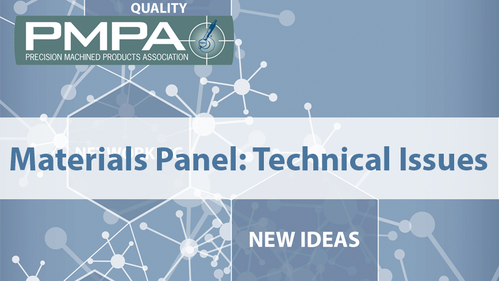 Materials Panel: Technical Issues (PMPA NTC 2022)
Format:
Streaming Video
National Technical Conference 2022 Attendees - $0.00
PMPA Members who did not attend - $100.00

Description:
Recorded: May 2, 2022 at National Technical Conference in Milwaukee, WI. Speakers: Joe Gentile, Hangsterfer's Laboratories Matt Schubert, Round Ground Metals John Pechan, Round Ground Metals Ray Schnell, Valbruna Stainless Jack Horner, Wieland Chase Each material has a specification that covers requirements that apply to characteristics important to our machining and processing as well as end use of parts.  Learn what to expect -  what to do and not do - to avoid and minimize material issues that can negatively affect your processing. 
Product Details:
| | |
| --- | --- |
| Product ID: | 5302032 |
| Publication Year: | 2022 |
| Pages, Size, or Length: | 1hr 15min |